Michigan Teacher Leadership Collaborative
Training educators as leaders and advocates so teachers and students thrive in Michigan.
Teachers from across Michigan:
You are invited to apply for the Michigan Teacher Leadership Collaborative, a highly selective leadership opportunity for outstanding Michigan teachers looking to share their expertise around equity-focused instructional practices, deepen their knowledge of education policy, and gain a voice in decisions that affect historically underserved students and the teaching profession.
As a member of the Collaborative, you will:
Expand your influence

without

leaving the classroom, starting in June 2023 and concluding in June 2024.  

Participate in two in-person training sessions (dependent on COVID-19 restrictions), monthly virtual meetings, and smaller, issues-focused working groups.

Engage in training through expert-led modules and direct engagement with key stakeholders.

No prior policy experience required.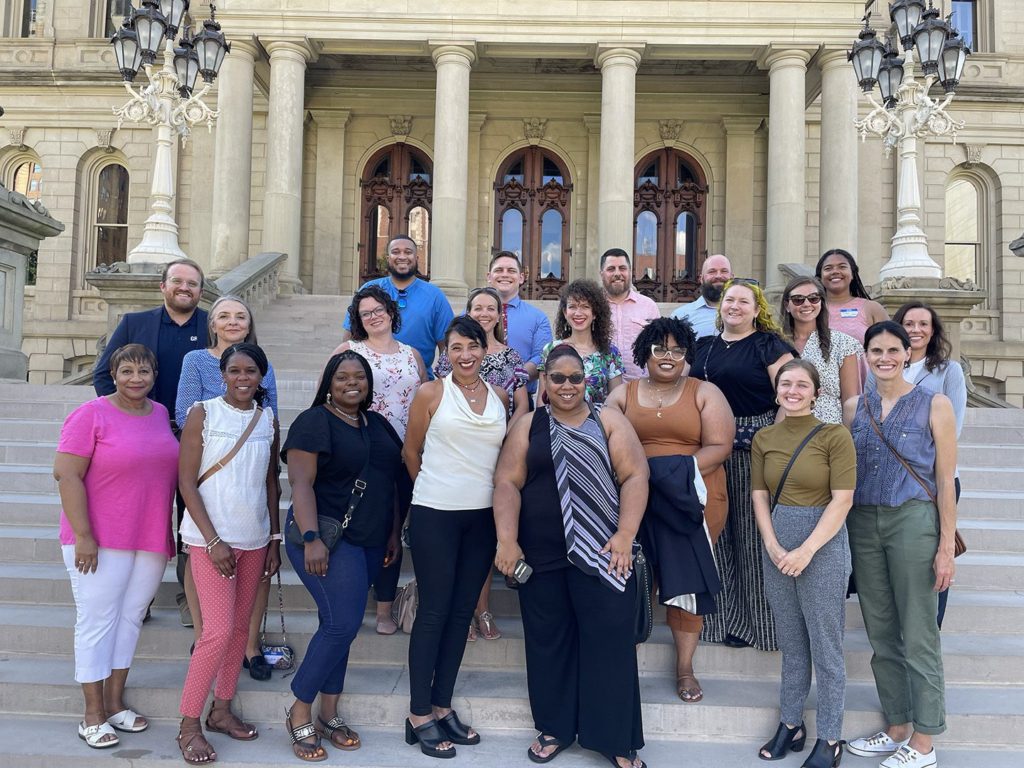 The EducationTrust-Midwest and Teach Plus will connect you with policy makers and opportunities to propose policy solutions, testify, write op-eds, and meet with decision-makers at the local and state levels. You will also have opportunities to network and share expertise with other equity-minded educators and receive training from The Education Trust-Midwest and Teach Plus in:
Understanding education policy as a lever for student success

Community organizing

Writing op-eds and speaking with the media

Conducting focus groups with fellow teachers

Communicating your expertise with peers and broader audiences

Providing public testimony
The Education Trust-Midwest and Teach Plus will recruit and select the Michigan Teacher Leadership Collaborative members from across the state to participate in this cohort experience. You will become part of a larger movement of teacher leadership and help mobilize your peers around top issues impacting equity for students and the teaching profession in Michigan. You will work in groups with fellow teachers to advocate on behalf of your students and have opportunities to share your expertise about equity-minded classroom practices with peers and at an MTLC-hosted conference.
Nominate a teacher who wants to achieve change in their schools and in the broader education system.
The Education Trust-Midwest and Teach Plus Partnership
The Education Trust-Midwest, the Michigan office of The Education Trust, and Teach Plus are partnering to offer a unique leadership experience for teachers. The Education Trust and Teach Plus are two equity-driven national education organizations with offices across the country. Learn about each organization below:
About The Education Trust
The Education Trust-Midwest is the Michigan-based office of the national nonprofit, The Education Trust, that works to close opportunity gaps that disproportionately affect students of color and students from low-income families. As a nonpartisan, data-driven education policy, research and advocacy organization, we are focused first and foremost on doing what is right for Michigan children, working alongside partners to raise the quality of teaching and learning in our public schools.
Teach Plus is a national nonprofit organization dedicated to empowering excellent, experienced, and diverse teachers to take leadership over key policy and practice issues that advance equity, opportunity, and student success. Founded in 2009, Teach Plus is built on a core model of teacher leadership that drives a relentless focus on improving outcomes for high-needs students and creating sustainable, community-driven change in schools and systems. Teach Plus runs policy fellowships and other teacher leadership programs in 12 states across the country.
Get to know the Policy Fellowship Michigan teachers.
As Israel-Hamas war continues, difficult conversations unfold in Michigan classrooms
mproving literacy post-pandemic: This Detroit teacher shares what works in her fifth-grade classroom
Voyager educator named to Michigan teacher leadership collaborative
Michigan Teacher Leadership Collaborative Names 18 Expert, Equity-Focused Educators From Across the State to its 2023-2024 Cohort 
MTLC concludes its successful 22-23 cohort with a dynamic virtual showcase of year-long collaborative work
This Detroit teacher's mission: Bring back school libraries